Julie Scoggins Comedy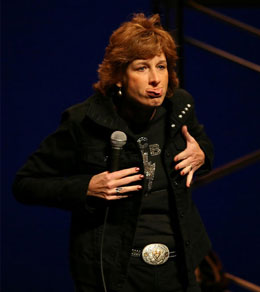 Don't take a drink until after the punchline!
She's a 6' 2", southern, ex-trucker and charm school graduate. Red haired, white knuckled, blue collar comedy at it's best.
"My new favorite female comedian"


... JohnBoy, (the JohnBoy & Billy Big Show)


"A great lady and a brilliant talent"


... Jackie Mason, (Comedian & Actor)

"Funny, Funny, Funny!!! Great well paced act that our whole group enjoyed to the MAX!"!


... Kevin W, (Dunlap, TN)


"You ROCKED!!! First time seeing you and we all laughed our *****off!!!!"

... Eileen
Don't forget to hop on my mailing list so I can keep you informed of when I'm in your area. Also, stop by and check out a brief history about me in the bio section and stop over and pick up some official Julie Scoggins apparel....