A Little About Julie Scoggins… "The Queen of Clubs"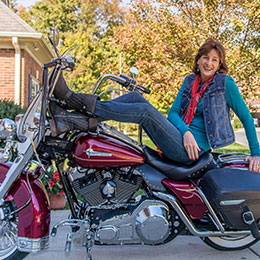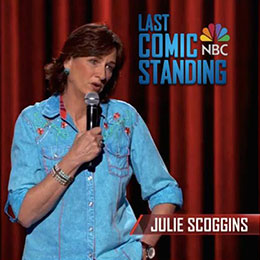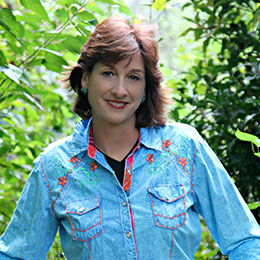 A former trucker, pooper scooper, & charm school graduate from Charlotte, North Carolina, Julie has been touring as a full time standup comedian for over 15 years. On the road approximately 36 weeks a year with one week a month set aside for "marriage preservation".
She loves riding her motorcycle to gigs & you'll frequently see her 2004 Harley Road King parked outside the club, theater, radio, or TV station.
Julie's regularly heard on XM/Sirius Blue Collar Radio, as well as many syndicated stations including the John Boy & Billy Show, and the Bob & Sheri Show, (Charlotte, NC), & the Bob & Tom Show (Indianapolis, IN). 
A Southern girl with universal appeal, Julie's shows sell out from Florida to Oregon. Folks actually WANT to sit in the front row & have been known to return a second night, just so they can bring friends that haven't yet seen her.
"Phyllis Diller started comedy at 37 years old & so did I. She went on to have a fabulous career that lasted over 40 years. I hope to be just as fortunate. It's so awesome to be doing exactly what I feel like I'm meant to do!".
After living on a boat in St. Thomas, US Virgin Islands, Julie & her husband, Mark moved back to the states in 1997. It was time to make her next career move after being a sales rep for Frito-Lay. "I sold Doritos on an island where 50% of the people smoked pot! Talk about a market niche…"
While she & her husband were deciding their next career moves, they went to open mike nights at the Charlotte, NC Comedy Zone. "It was all guys & they were SO awful! Mark said I was funnier, so I gave it a try. I was immediately hooked & have been performing ever since!"